About Us
Mermaid Fish Bar is a Fish & Chips takeaway in London. Why don't you try our Coleslaw or Cornish Pasty with Chips & Drink?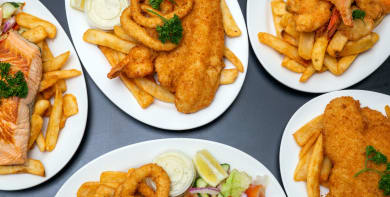 Reviews
225 reviews
Nic
"Great food! Always on time."
18/01/2021
Nick
"Fantastic food, and fantastic service. I'll be buying from here again that's for sure. Thank you."
16/01/2021
Alex
"Fabulously fresh, flaky fish and great chips! Arrived hot and crispy!"
13/01/2021
Steven
"First Class"
13/01/2021
Menu
Quarter Pounder Beef Burger
Quarter Pounder Chicken Burger
Chicken Shish Kebab Large
£6.50
Chicken Shish Kebab Medium
£5.50
Traditional Fish & Chips Vinegar
£2.99
Heinz Garlic & Mayonnaise
£0.50
Heinz Tomato Ketchup 250g
£1.99
Heinz Tomato Ketchup 300g
£2.99
Cheese & Onion Pasty with Chips
£3.99
Cornish Pasty with Chips & Drink
£3.99
Fresh Halal Spicy Chicken Wings 09 Pcs
£3.99
Fresh Halal Spicy Chicken Wings 12 Pcs
£4.99
Heinz Classic BBQ Sauce (260g)
£1.99
Vegetarian Burger - Quarter Pounder
£3.50
Chicken Burger - Quarter Pounder
£3.99
Burger with Cheese Half Pounder
£4.99
Burger with Cheese Quarter Pounder
£3.99
Ben Shaw's Bitter Lemon Bitter Lemon
£0.99
Ben Shaw's Bitter Lemon Cloudy Lemonade
£0.99
Ben Shaw's Bitter Lemon Cream Soda
£0.99
Coca-Cola Zero Sugar 0.33L
£1.49
Coca-Cola Zero Sugar 0.5L
£1.99
Sausage, Chips & 0.33L Can of Soft Drink
Offer includes battered OR saveloy sausage, regular chips & any 0.33L can of soft drink
£4.99
Pie, Chips & 0.33L Can of Soft Drink
Choose any pie OR pastry with small chips & any 0.33L can of soft drink
£5.49
Fish, Chips & Drink
Cod or haddock & chips & any 0.33L can of soft drink
£10.99
Burger&Chips &Any Can of Drink
Quarter pounder burger, chips & any can of Drink
£6.99
Mermaid Special
Whole cod, fish & chips, mushy peas & curry sauce
£21.99
Fish cake& chips & any can of Drink
£4.99
Tabbouleh Salad
Parsley, mint, spring onion, tomato, cucumber, red onion, bulgur wheat, olive oil & fresh lemon juice
£4.50
Contact Us
Find Us
174 Long Lane, London, N32RA
We deliver to
N10, N11, N12, N2, N20, N22, N3, N6, NW11, NW4, NW7